The Digital Premodern, Featuring the IMMERSe Medievalism and Video Games Symposium
Full text schedule following flyer image.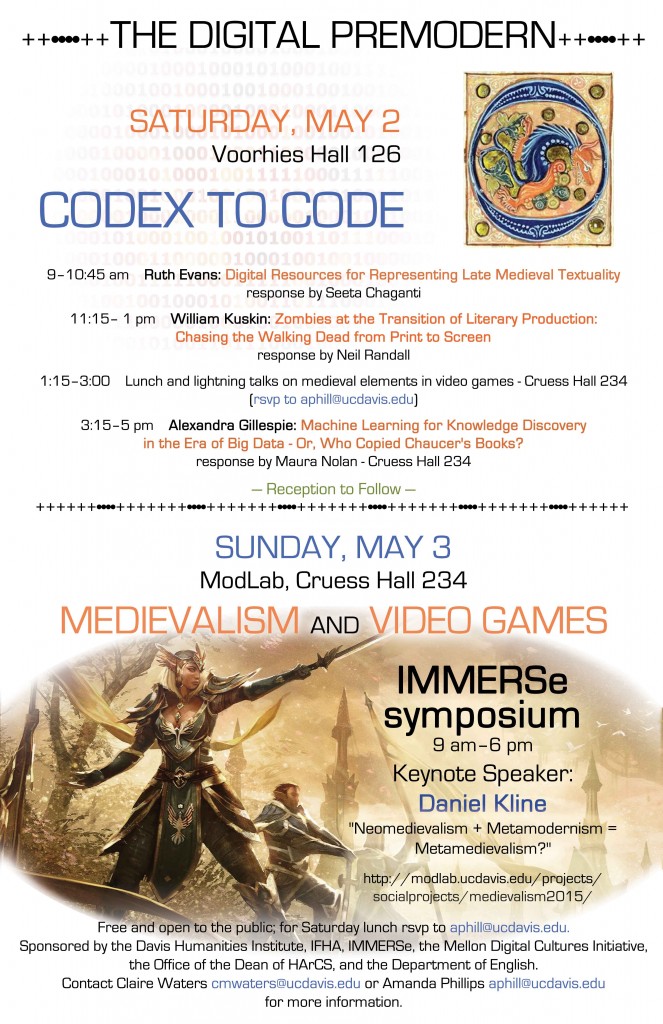 Friday, May 1
Opening Reception: 5:00 – 8:00 PM
Gunrock Pub
Held in conjunction with the GameCamp! by ModLab Game Jam Kickoff. See http://ucdavisgamecamp.wordpress.com for more information
Saturday, May 2
Codex to Code
8:30 – 9:00 AM: Breakfast (Voorhies 126)
9:00 AM
"Digital Resources for Representing Late Medieval Textuality," Ruth Evans, Saint Louis University
Response by Seeta Chaganti, University of California Davis
11:15 AM
"Zombies at the Transition of Literary Production: Chasing the Walking Dead From Print to Screen," William Kuskin, University of Colorado Boulder
Response by Neil Randall, University of Waterloo
1:15 PM: Lunch and Lightning Talks (Cruess Hall 234)
Lunch for all participants and attendees, with short presentations on medieval elements in video games
3:15 PM
"Machine Learning for Knowledge Discovery in the Era of Big Data – Or, Who Copied Chaucer's Books?" Alexandra Gillespie, University of Toronto
Response by Maura Nolan, University of California Berkeley
Reception: 5:00 PM
Catered reception with arcade of medieval games and student projects
Digital Projects from UC Davis
Alyssa Hurst: The Last of Us and the Medieval Quest
Nathan Orr: The Pointy Eared Knight
Jason Pham: Medievalism and The Legend of Zelda: Link's Awakening
Gina Bloom and ModLab: Play the Knave
Sunday, May 3
IMMERSe Medievalism and Video Games Symposium
Breakfast: 8:30 – 9:00 AM

ModLab (Cruess Hall 234)

Keynote: 9:00 – 10:00 AM
"Neomedievalism + Metamodernism = Metamedievalism?" Dan Kline, University of Alaska Anchorage
10:15 – 11:45 AM: Digi/Textual Traditions
"Chante(fable): Genre, Medievalism, and Fantastic Worlds in Aucassin et Nicolette and Lionhead Studios' Fable," Nicholas Holterman, University of Texas at Austin
"Aeris and the Venerable: Final Fantasy 7 and Medieval Sainthood," Megan Palmer-Browne, University of California Santa Barbara
"Bioware's Dragon Age: Rewriting Old English Poetry and Culture," Elise Vist, University of Waterloo
"Mapping Medievalism: The Cartographic Commitment & Architectural Structure of Bree in Turbine's The Lord of the Rings Online," Rebecca Anderson, University of Waterloo
11:45 AM – 1:00 PM: Lunch

Provided by ModLab
1:00 – 2:30 PM: Critical Making in (Neo) Medieval Studies
"Rewriting History To Learn It: Emergent Gameplay As Teaching Tool," Elliot Harwell, University of California Davis
"Virtual Vistas: Pedagogical Approaches to Medieval Landscapes," Cordelia Ross, University of California Davis
"Lord of the Rings Lady Hobbits: An Embodied Reimagining of Peter Jackson's The Lord of the Rings using The Lord of the Rings Online," Emma Vossen, University of Waterloo
"Simulating the Middle Ages: The Ongoing Design of My Constantinople Game Series," Neil Randall, University of Waterloo
2:45 – 4:15 PM: Examining the Elder Scrolls

"The Modders And The Critics: Lore-Friendliness, Subcreation, and the Beowulf Manuscript," Stephen Yeager, Concordia University
"'Improving' Lydia: Fantasy Girls and Women Warriors," Carolyn Jong, Concordia University
"Magic Scrolls and Village Libraries: Textual Objects and Material Desire in Skyrim," Stacey Church, Georgetown University
"Unknown Origins: The Grail Hero in Medieval Quest Narratives and The Elder Scrolls," Kristen Aldebol, University of California Davis
4:30 – 5:45 PM: Global Remediations of Premodern Imaginaries
"Final Fantasy Doesn't Smell: Japanese Role-Playing Games, European Medievalism, and 'Culturally Odorless' Globalization," Evan Lauteria, University of California Davis
"Miscegenated Medievalism in Bayonetta," Amanda Phillips, University of California Davis
"League of Legends Nations: Power and Ethnicity in International E­Sports," Lily Zhu, University of Texas at Austin
++++++++++CFP FLYER BELOW++++++++++

May 1-3, 2015
Keynote Speaker: Daniel T. Kline, Chair and Professor of English, University of Alaska Anchorage
Whether they serve as inspiration for new digital societies or as the raw material for remediated texts, the imagery, events, narratives, and sociopolitical structures of the Middle Ages sit at the heart of gaming culture. Retellings of canonical texts like Beowulf and Inferno have made their way into mainstream gaming, while fantastical digital universes such as World of Warcraft and Dragon Age draw from later medievalisms like Dungeons and Dragons and the works of Tolkien for their inspiration. The ludic and technical structures of video games also provide different challenges and affordances for neomedieval expression. One might explore digitally restored landmarks, reenact or alter historical events, or interact with simulated material objects like scrolls and books in new ways.
We invite research and creative work exploring the intersections between medievalism, neo-medievalism, or other periods in premodern studies and digital gaming. Your primary disciplinary orientation—for example, medieval studies or game studies—is less important than a commitment to engage in cross-disciplinary conversations with other scholars. Innovative interdisciplinary perspectives and new approaches to scholarly production are particularly welcome.
The IMMERSe Medievalism and Video Games Symposium will be held in conjunction with the University of California Davis Humanities Institute Digital Premodern Conference, which will explore medieval studies and the digital humanities more broadly.
We invite the following traditional research submissions for inclusion in our scheduled time slots:
–       Individual Papers
–       Organized Panels
In addition to these presentations, we invite the submission of other research and creative formats to showcase during our arcade and microtalk sessions:
–       Research Posters
–       Digital Games
–       Fan Productions
–       Lightning Talks (5 minutes)
Suggested topics include, but are not limited to:
–       Textual materiality, oral histories, and digital games
–       Gaming and lore culture
–       Compendia, bestiaries, and world-making
–       Racial, gender, sexual, religious, national, and other differences in neomedieval fantasy cultures
–       Remediations of the sacred and secular
–       Epic traditions
–       Platform studies and neomedieval gaming
–       Appropriation, translation, and participatory culture
Please send a 250-word abstract and a 100-word biography by Sunday, March 1, to Amanda Phillips, IMMERSe Postdoctoral Fellow: aphill at ucdavis.edu. Indicate what type of presentation you envision and whether you have any flexibility in this format.
Stipends for travel and assistance with accommodations are available. Preference for this funding will be given to junior scholars, contingent faculty, IMMERSe research network affiliates, and others demonstrating financial need due to distance traveled or other circumstances. If you would like to be considered for a travel stipend, please include with your submission a brief (no more than 250 word) request addressing your need and eligibility.
IMMERSe (The Interactive and Multi-Modal Research Syndicate) is an international collaboration of game studies researchers funded by the Social Science and Humanities Research Council of Canada. The University of California, Davis, is located in Davis, CA, minutes from Sacramento and a short train ride or drive to the San Francisco Bay Area.