GameCamp! by ModLab (ongoing)
Learn how to make games in this workshop series faciliated by Josef Nguyen and Amanda Phillips! For more information, see http://ucdavisgamecamp.wordpress.com

PAST EVENTS:
The Digital Premodern
UC Davis, May 2-3, 2015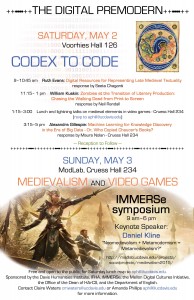 Glitch Body and Nanostalgia [1454-2015]
UC Davis, April 18, 2015
This work confronts post-western nomadic bodies with mobile technologies of surveillance and self-curation from moveable type to genetic code and from the grid patterns of stone-age flax-fiber death shrouds from Ç​atalhöyük​to the ubiquitous pixel of Silicon Valley. Join us in Glitchtopia where there's never a full presence; there's only auto-voyeurismo and the selfie. Feel your nostalgia for the present, an impossible present. Let's put on Google Glass and stalk through the streets of glitchtopia. Freedom lies in the glitch. The glitch is not what you think it is; you are what the glitch thinks you are. Let the glitch think you.
Mexican Performance Artist and Writer Guillermo Gómez-Peña will be in residence at UC Davis to work with theater media maker John Zibell and a group of California-based performance artists on a new performance piece dealing with the effect of new social technologies on the human body, interpersonal relations and fictional memories.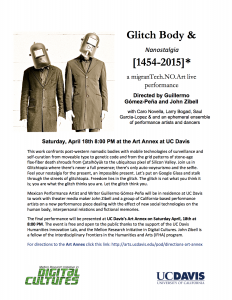 Simon Biggs—Interdisciplinary Creative Practices
UC Davis, May 14, 2013
Nanovation! — Nanotechnology and Regimes of Innovation
UC Davis, May 10, 2012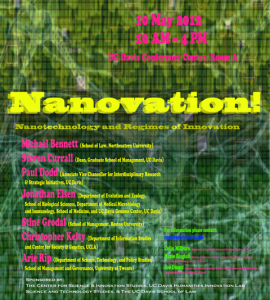 Gaming the Game: Tweaking, Cheating, Hacking, Creeping
UC Davis, April 12-13, 2012
The Gaming the Game conference addressed the impact of new media technologies on notions of subjectivity, sovereignty, property, and privacy. Participants from diverse disciplines responded to the challenges posed simultaneously by new interactive media and new structures of technopolitical power. How do new media technologies modify behavior? How does technological "function creep" lead to unpredictable patterns, actions and reactions? How do we think about "innovative gaming" and practices such as modding, cheating, and hacking? This two-day conference aimed to consider the ludic infrastructure of contemporary culture in order to explore various ways in which we might begin "gaming the game."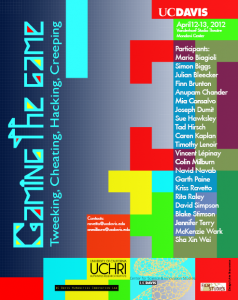 Tweak! Modding Disciplines through Inventive Tools
UC Davis, September 23, 2011
Tweak! was a workshop on the generativity of extended collaborative encounters across disciplines. Three-dimensional design tools—3D printers, virtual CAVEs, and dynamic visualization programs—facilitate inventive thinking especially when they are the emergent result of long-term engagements among groups in which there can be no sole inventor. These groups often have wildly different interests and goals but are able to create tools and knowledge together via rapid modification of products, software, and visualizations. Using successful cases from synthetic biology, geology, architecture and medicine, Tweak! examined the project of creating and continually modifying tools whose openness depends on the materiality of experience: haptic feedback, surfaces, workflow and interfaces. Presentations focused on the nuts and bolts of group development dynamics, and the roles of proximity, shared space, teaching together, programming experience and scientific expertise. Participants explored the forms—processes, programs, and projects —that emerge from such dynamics. Case presentations of three projects (LabStudio, KeckCAVES, Microsoft-SynthBio) were followed by respondents from different STS perspectives. The workshop concluded with a keynote by Adrian MacKenzie, who provided a theoretical overview of inventive software tools and generative sociality.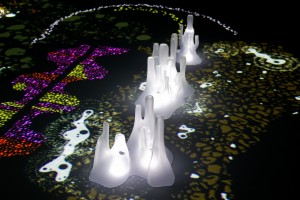 Expressing the CAVES: Art & Science in 3D Immersive Dialogue
November 2010
Expressing the CAVES was a series of engagements that brought together eighteen artists, computer scientists and researchers to explore new models of experiencing a 3D immersive environment, new ways of designing interactions with technology, and new artistic and art-sciences possibilities with it.